Datum: zaterdag 28 maart
Aanvang: 20:30
Entree: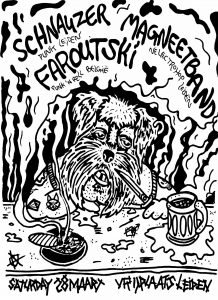 Unfortunately, this event has been cancelled because of the coronavirus, check here for more info.
Get ready for some action tonight!
Faroutski – old skool punk 'n roll from Belgium! Since 1991 baby!
https://www.facebook.com/pg/Faroutski-43842256233/about/
Schnauzer – old punks strapped in new shiny boots! Loiden locals!
Magneetband – new nelectrohoppop from old jacks in the Leiden scene! Autotune to the max!
https://www.youtube.com/watch?v=BS1-BtJffqs&feature=youtu.be&fbclid=IwAR2VrVhU-bVQWm35MmzpYZyjl_RxIHzhQhsdkaOVnx46PYlmjMqbqHKFOW4