Datum: donderdag 28 april
Aanvang: 21:00
Entree: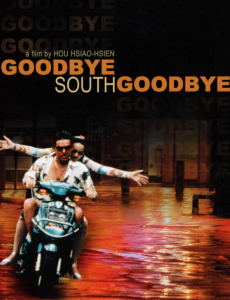 Subvercinema is a monthly filmnight at Vrijplaats Leiden, focusing on subversive and radical films and video art from all over the world. Whether subversive on an aesthetic, formal or socio-political level, we try to screen films that are incendiary in any sense of the word: ranging from experimental and avant-garde films to recent overlooked gems and obscure, forgotten classics.
This month, we will screen Goodbye South, Goodbye (Nanguo Zaijian, Nanguo, 1996) by Hou Hsiao-Hsien, whose latest film The Assassin (Nie Yin Niang, 2015) was released in Dutch theatres earlier this year, accompanied by a small retrospective of his early work in Eye.
Goodbye South, Goodbye can be seen as a turning point in Hou's career. The film marked the end of Hou's role as a chronicler of Taiwanese history and saw him shift his focus to personal stories against the backdrop of a contemporary – but still constantly changing – Taiwan.
The film follows a number of rootless, petty gangsters wandering around Taiwan, in search of opportunities. During a lot of the film they are seen spending their days waiting, filling the time with smoking, drinking, talking and card games.
Even though the setting has changed, the film still shares a lot of similarities with Hou's older work. Characters are observed quietly, without any form on judgement. There's not much focus on any narrative, and some scenes seem to linger on endlessly. Instead, the focus lies on small moments, on the mundane, on daily conversations and dreams filled with hope for a better future.
With its beautiful tracking shots, unique pace, subtle commentary on society and its restrained humor, the film is yet another high point in the oeuvre of one of the most consistent and important directors of the past 30 years.
According to the influential French film magazine Cahiers du Cinéma., Goodbye South, Goodbye is one of the three best films of the 90s.
The film will be screened with English subtitles.