Datum: donderdag 17 december
Aanvang: 21:00
Entree: Donatie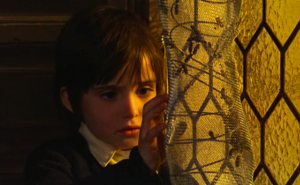 Subvercinema is our monthly filmnight at Vrijplaats Leiden, focusing on subversive and radical films and video art from all over the world. Whether subversive on an aesthetic, formal or socio-political level, we try to screen films that are incendiary in any sense of the word: ranging from experimental and avant-garde films to recent overlooked gems and obscure, forgotten classics.
For our final screening this year we have chosen to show Victor Erice's beautiful debut film El Espíritu de la Colmena (Spirit of the Beehive, 1973). Set in a village in Spain in 1940, just after the end of the civil war, the film tells the story of six-year old Ana. Her father spends most of his time in his study or taking care of his beehives, while her mother mostly daydreams about her lover. Feeling disconnected from her family, Ana ends up taking care of a fugitive soldier hiding in an abandoned barn.
The film stars the young actress Ana Torrent who gives an amazing performance in her first role ever (just as she would do in Cría Cuervos three years later) and is a beautiful exploration of the innocence and the fears that are part of childhood.
Hope to see you at the Vrijplaats the 17th of December!
The film will be screened with English subtitles.