Datum: zaterdag 21 oktober
Aanvang: 21:00
Entree: 5 euro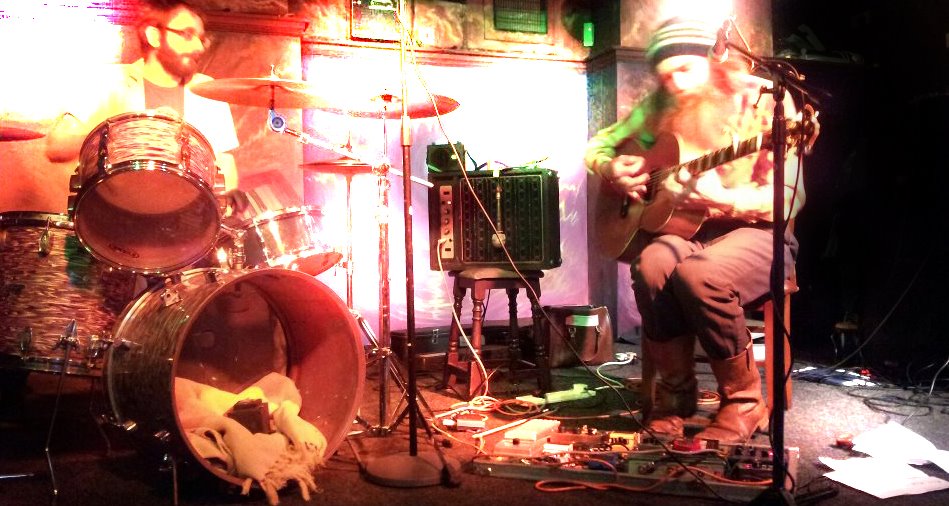 The Diamond Family Archive (UK)
The atmosphere builds gradually, the sound rising and falling as the duo coax pulsing beats and a tidal ebb and flow of music. The natural world is at the heart of The Diamond Family sound and their songs shift like the seasons. – Zero Tolerance
This mesmerising duo play a hybrid of traditional folk wrapped in melancholic psychedelic soundscapes that paint picturesque portraits of the English countryside. – avenoctum
The Diamond Family Archive are an English lo-fi, psych-folk, multi-instrumentalist duo from The South Hams in Devon.
Live, The Diamond Family Archive craft a mesmeric live-show from drums, acoustic guitars, lots of FX pedals, keyboards set to drone, tape delay, loops and bellows, bows, harmonicas, cosmic harps, toys and broken cymbals.
All coming together to create music which holds echos of post-rock, traditional folk, spiritual soul music, psychedelic rock and lo-fi.
Foot-stomping, finger-picking, hollering vs pin-drop hush – fragile, lazygrace.
In the last year alone The Diamond Family Archive have played shows in Austria, Belgium, Germany, Holland, Italy, Spain, Switzerland and the UK.
https://www.facebook.com/laurence.collyer/
Michel Henritzi (F) & Rinji Fukuoka (Jap)
Avant-garde, psychedelic, noise- spectral music made of repetitive patterns that remind us of Tony Conrad.
Rinji Fukuoka is one of the iconic figures, along with Makoto Kawabata or Keiji Haino, of the psychedelic japanese rock. He is the founder of the bands Overhang Party, Majutsu No Niwa, Tangerine Dream Syndicate and he also plays with Sachiko and Masayoshi Urabe.
Michel Henritzi is a member of the noise combo Dustbreeders. He also regularly plays as a duo with Junko (from Hijokaïdan). He played too with Jojo Hiroshige, Masayoshi Urabe, A Qui Avec Gabriel, Tetuzi Akiyama, Tamio Shiraishi, Nihilist Spasm Band.
http://michelhenritzi.canalblog.com/
Deur open 21:00
Aanvang 21:30