Datum: zaterdag 25 januari
Aanvang: 20:30
Entree: Free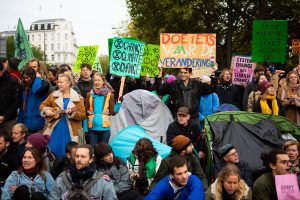 (Deze lezing zal in het Engels zijn, maar we zullen binnenkort ook Nederlandse lezingen organiseren, dus hou onze Facebook in de gaten)
Saturday 25 January we will give the 'XR Talk' at de Vrijplaats, Leiden. This talk will be in English, but we will also organise talks in Dutch, so keep an eye on our facebook page.
From 19:00 there is the usual vegan eatcafe, our talk will start right after the food (between 20:30 – 21:00). The talk will take about 1 hour, and there will be time for questions and discussion. Afterwards, we can have a drink together and party like there is no tomorrow.. there will be DJs playing till late.
The talk is divided into two parts:
a) the science behind the climate and ecological crisis we're facing, and
b) why Extinction Rebellion follows a strategy of mass civil disobedience to bring about change.
The presentation will be given by two activists of Extinction Rebellion who are excited to tell you all about the growing social movement and the recent actions. There is room for questions and discussion after the talk. Please bring your family, friends, and colleagues!