Datum: vrijdag 12 december
Aanvang: 10:00
Entree: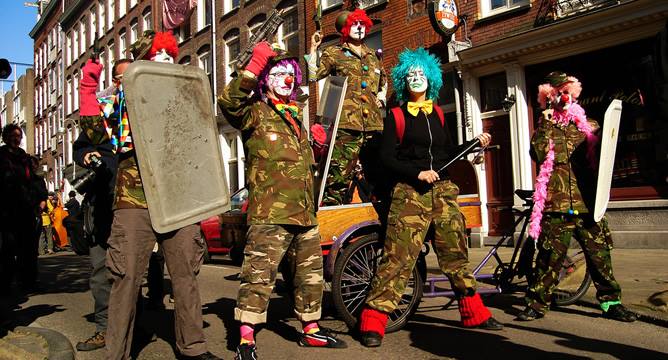 English below
CIRCA is op zoek naar jou! CIRCA is op zoek naar jou! CIRCA is op zoek naar jou!
De Clandestine Insurgent Rebel Clown Army (CIRCA) is op zoek naar narren en rebellen, radicalen en schurken, verraders en bedriegers, dwarskoppen en nestbevuilers.

BASIC REBEL CLOWN TRAINING
Vrijdag 12 en zondag 14 december 2014, vrijplaats Leiden, Middelstegracht 36
Beide data van 10 tot 20 uur
Op maandag 15 december praktijk!
Sinds het begin van de tijd hebben tricksters, de mythologische oorsprong van de clowns, de paradoxen van het leven geliefd en de juistheid door verwarring gecreëerd. Ze brachten wanorde in de wereld door leugens te ontmaskeren en de waarheid te tonen.
De CIRCA heeft het clownen om politieke organisatievormen verruimd om het weer gevaarlijk te maken en terug op straat te brengen. Clowns worden ongehoorzaam en krijgen hun sociale functie die ze ooit hadden terug: de vaardigheid om de samenleving te verstoren, te bekritiseren en te veranderen.
De workshops kennen drie onderdelen:
1. Zoek naar je "clown binnenin" door geselecteerde improvisatie- en theateroefeningen
2. Politiek activisme: organisatie in referentiegroeps, spoedige besluitingsvinding in stresssituaties, planning van een actie; army drilling: mars-formaties en commando's
3. De versgebakken getrainde clown-groep stelt hun vaardigheden op het slagveld van het dagelijks leven op de proef
AANWEZIGHEID OP MINSTENS DE EERSTE TWEE DAGEN IS VOORWAARDE VOOR DE DEELNAME AAN DE WORKSHOP
Als je wilt deelnemen, meldt je dan voor 10 december aan door een mail te sturen aan clown-army-leiden@riseup.net Er is plek voor een beperkt aantal deelnemers: wie het eerst schrijft…
Schrijf in je mail a.j.b. of je de workshop in het Engels en/of Nederlands kunt volgen. Wat iedereen mee zou kunnen brengen: gemakkelijke kleding, iets om op te schrijven en indien voorhanden kleding-materiaal (nepbont, leger-kleding).
Recruteringsvideo van CIRCA: https://www.youtube.com/watch?v=t_jS3Wh8g6s
English version
CIRCA is looking for you! CIRCA is looking for you! CIRCA is looking for you!
The Clandestine Insurgent Rebel Clown Army (CIRCA) is searching for fools and rebels, radicals and desporados, betrayer and cheater & pigheaded fellow.
BASIC REBEL CLOWN TRAINING
Friday the 12th and Sunday the 14th of december, vrijplaats Leiden, Middelstegracht 36
Both dates from 10a.m. till 8p.m.
On Monday the 15th practice!
Since the beginning of the time tricksters, the mythologic origin of clowning, love the paradoxes of life and create coherence through confusion. They brought disorder to the world to unmask their lies and to show the truth.
The CIRCA extended clowning through political forms of organisations to make it again dangerous and to bring it back to the streets. Clowns are becoming disobedient and get back their social function they once had. The ability to disturb the society, to criticise and to change it.
The workshop is divided in three phases:
1. Search of the "inner clown" through selected improvisations- and theatre-exercises
2. Political activism: organisation in referencegroups, quick decision-making in stressful situations, action-planning; army drilling: march-formation and orders
3. The newly skilled group test their skills on the battle field of the daily life
PRESENCE AT MINIMAL THE FIRST TWO DAYS IS REQUIRED FOR THE PARTICIPATION
OF THE WORKSHOP
If you want to join, send a mail before the 10th of December to clown-army-leiden@riseup.net.
There is a limit of participants: who writes first…
Please write in the mail if you can follow the workshop in English and/or Dutch. Everybody should bring: comfortable clothes, writing utensils and if you have material to dress up – colourful and especially army outfit