Datum: vrijdag 18 november
Aanvang: 20:30
Entree: 10 (advance) / 15 (door)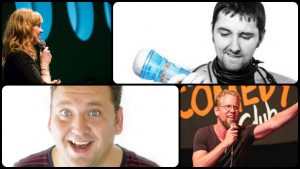 The November Edition of Leiden English Comedy Nights with stand-up comedians from around the world performing IN ENGLISH is SOLD OUT! But there will be another show next month!
Each show sees Carly Baker (USA) & InternationalComedians.com founder Joe Eagan (Canada) bring different comedians to Leiden from around the world to entertain you in English.
This show brings you the sassy Daniel-Ryan Spaulding! Daniel is an internationally-touring Croatian-Canadian Stand-Up Comedian who has performed in 44 countries worldwide. Now based in Amsterdam, his comedy is a wild ride through the world of culture, identity, and sexuality. Brutal. Honest. Sexy. Hilarious! He is a regular performer at the Comedy Cafe Amsterdam, and might be known to internationals in Holland for the hit youtube video "Shit Expats Say in the Netherlands."
www.youtube.com/danielryanspaulding
We are also thrilled to have very Irish, Michael Porter, over for his European tour. Michael first took to the stage at a local open mic in Derry / LondonDerry in 2009. Fueled with nerves, excitement & no clue how to perform he proceeded to " die on his arse !".. However armed with the stupidity & ambition to be a comedian, Michael has come a long way since that painful winters night! A finalist in " Show Me The Funny" 2012 (Galway) his journey into the unknown has seen him perform all over the UK, Ireland & Europe working with alongside the likes of Kevin Bridges, Frankie Boyle, Tony Law, Pat Mc Donnell (Father Ted) & John Colleary ( RTE Savage Eye ) to name a few.
Michael has writing /producing credits with BBC radio 1 & BBC radio Foyle whilst also Appearing in "Game Of Thrones" , "Hollyoaks" & "Dracula Untold"
Also delighted to be joining us is Tim van 't Hul. Tall, blond and European, Tim is what Alexander Skarsgard would look like if Alexander Skarsgard looked less like Alexander Skarsgard and more like a grungy garden gnome. Tim has worked as a tour guide, a cameraman, an English lecturer and a performer in a haunted house. Be sure to catch his stand-up before he inevitably grows bored with that too.
Cathy Schrijner, our Kiwi Dutch star of tomorrow, will also grace the stage.
Your resident MC, Carly Baker, will be holding the night together!
:::THE ENTIRE SHOW WILL BE IN ENGLISH:::
Doors open @ 20:00, showtime is 20.30 sharp. bar is open from 20:00.
Price:
Advance: 10eur
ESNcard holders: 9eur
Door: 15eur
Reserve advance tickets via: leiden@internationalcomedians.com
if you reserve tickets, please come by 20:10 to collect your tickets or they could be released at 20:15 to anyone on the eventual waiting list.
book comics for events/parties: www.internationalcomedians.com
join our newsletter: leiden@internationalcomedians.com