Datum: zaterdag 11 mei
Aanvang: 20:30
Entree: 5 euro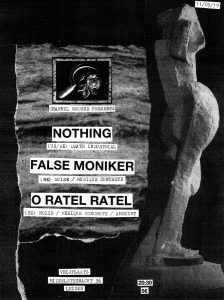 We are excited to present another evening filled with some quality noise, musique concrète and death industrial at Vrijplaats Leiden:
Nothing (US/DE): Sisto Rossi has been active under various different names over the years and as such dabbled in the fields of HNW, power electronics, drone, tape collage and harsh noise. This time Sisto will present us his Death Industrial project "Nothing".
False Moniker (BE): Next to running the prolific Audio Visuals Atmosphere entity, Niels Geybels has build up a steady reputation with his art and music projects. As False Moniker, Geybels combines field recordings, drones and noise soundscapes to create a haunting but at times beautiful collage of sounds.
O Ratel Ratel (BE): Disassembled synthesizer remnants and fragments of tape recordings are filtered through a web of symbolism. Coming from Belgium, O Ratel Ratel invites us into dark domains with deep, sharp and abstract tones.