Datum: donderdag 18 mei
Aanvang: 21:30
Entree: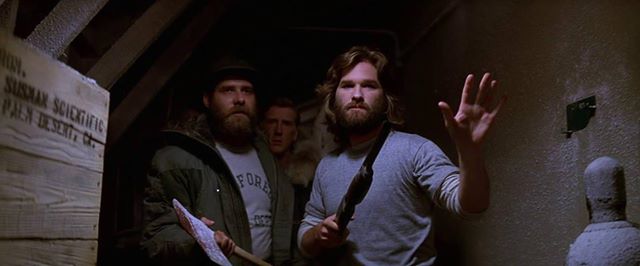 For our last edition of the season we want to end on a somewhat lighter yet chilly note, as we will show one of our favourite cult horrorfilms of all time: 'The Thing' by John Carpenter!


Like the 1951 film 'The Thing From Another World', 'The Thing' is an adaptation of the novel 'Who Goes There?' (1938) and tells the story of a group of scientists in the Antarctic (among them Kurt Russell) who are confronted with a shape-shifting 'thing' that parasitically assumes the appearance of the people and animals it kills. As the tagline ironically conveys: "man is the warmest place to hide". The film was received poorly upon release in 1982: it came out in the US around the same time as 'Blade Runner' and the box office hit 'E.T.: The Extraterrestial', and was initially completely destroyed by critics, who considered it vulgar and digusting and named it "a great barf-bag movie", "a wretched excess" and a "surprising failure".


In the three decades following its release however, the film became (re)appreciated for these gory aesthetics and excessive special effects by designer Rob Bottin, and is now considered one of the best horror films of all time, making it truly live up to the definition of the word 'cult film'. Especially recently 'The Thing', and John Carpenter's oeuvre in general, has received a revived interest in light of debates on posthumanism and contingent interests in the genre of 'body horror'. Mastered by filmmakers like Carpenter, but also David Cronenberg, 'body horror' is a hybrid genre that "recombines the narrative and cinematic conventions of the science-fiction, horror and suspense film in order to stage a spectacle of the human body defamiliarized, rendered other", as described in the book 'Posthuman Bodies' and coined as early as 1986 in the magazine Screen in a special issue on the theme of 'body horror'.


The alienlike antagonist of 'The Thing' represents the kind of liminal or 'Other' figure that is neither animal nor human, but parasitically incorporates elements of each. Like the fog in 'The Fog' and the car in 'Christine', two other films by Carpenter, the creature encompasses agency and represents a destructive force that goes beyond that of a tangible and steady human body and exceeds the biological, sexual and psychic categories through which we traditionally construct a sense of human identity, enabling the film to call into question issues of vulnerability, contagion and paranoia.


On Thursday the 18th of May we dive deeper into the fascinating ambiguities this film invokes, so we hope to see you all there for our last film night before the summer break!


109 minutes


Doors open: 21:00
Start programme: 21:30
Entrance: donation