Datum: donderdag 13 april
Aanvang: 21:00
Entree: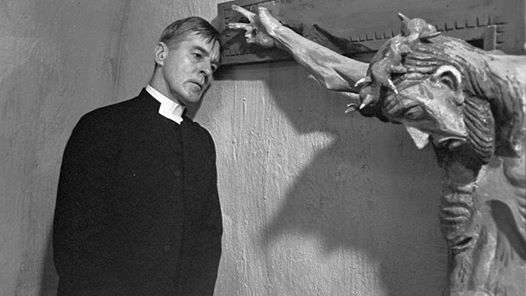 Because the 27th of April is Kingsday, we move our Subvercinema night to a bit earlier on in the month, closer to Easter and in light of the latter, what better film to screen than an Ingmar Bergman film about a pastor of a small rural church having a crisis of faith?
Well known for fantastic features like Wild Strawberries, Persona, Fanny and Alexander and the The Seventh Seal the Swedish filmmaker is conisdered one of classic directors of European Cinema. Yet, though it was received well in Sweden when it came out, Nattvardsgästerna or Winter Light (1963) was not as popular as these films and often remains a bit overshadowed in comparison to Bergman's other films. Especially in the US the film was originally received mildly and with mixed responses: a journalist of The New Leader described it as an "inferior Bergman", while a writer of the New York Herald Tribune said it remained "bleak and cold in its abstract ideas". Roger Ebert however, named it in his 'Great Movies' list in 2007, praising its bleak and courageous power and admiring its minimalist visual style.
This year also marking the 10th anniversary of Bergman's death and next year being a 100 years since he was born, it seems an additional reason to revisit his work, particularly through a film that was less appreciated throughout his career, while in fact being the personal favourite of the director himself: "I think I have made just one picture that I really like, and that is Winter Light. That is my only picture about which I feel that I have started here and ended there and that everything along the way has obeyed me. Everything is exactly as I wanted to have it, in every second of this picture".
81 minutes
English subtitles
Doors open: 20:30
Start programme: 21:00
Free entrance, donations welcome