Het is begin september en dus zijn we al weer een week van start met een nieuw seizoen in de vrijplaats! En wat voor één… De vrijwilligers van programmagroep hebben alles behalve stil gezeten en een overdonderend vol programma in elkaar gedraaid. Hieronder lichten we er een aantal voor je uit…
12/09: "CHAMOS THA GINEI" (THERE'S GONNA BE CHAOS)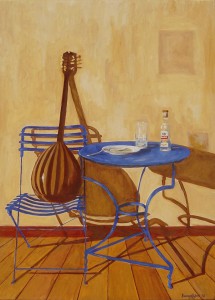 After the enormous success of the last Greek themed night, Saturday 12th will feature another edition with not just delicious Greek (and vegan) food and music from our most beloved Greek band The Travelers and DJ Thanos.
Het Achterste van de Tong has invited Vasilis Karakasis (GR) and Merijn Oudenampsen (NL) to assess the Greek political situation and discuss how the "Greek Crisis" is perceived in Greece as well as in the Netherlands. There will be a Q&A and room for discussion. The discussion will be moderated by Lykle de Jong, and the whole of the evening will be in English.
12&13/09: OPEN MONUMENTENDAGEN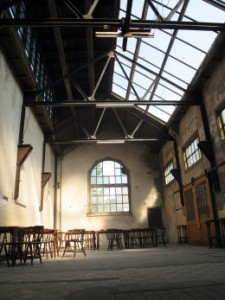 Net als een aantal vorige edities doet Vrijplaats Leiden ook dit jaar weer mee aan de Open Monumentendagen die in het weekend van 12 en 13 september plaatsvinden. Dit jaar kun je niet alleen het gebouw, onder het genot van een kopje koffie of thee, nader bestuderen. Reinier Verbeek, bestuurslid en renovatiearchitect, geeft ook een uitleg over onze renovatieplannen en de wijze waarop de Vrijplaats met behoud van historische elementen en monumentale karakter de conservenfabriek van een nieuwe bestemming voorziet.
Zie voor meer info: openmonumentendag.nl
17/09: SUBVERCINEMA


Subvercinema is a new monthly filmnight at Vrijplaats Leiden, focusing on subversive and radical films and video art from all over the world. Whether subversive on an aesthetic, formal or socio-political level, we try to screen films that are incendiary in any sense of the word: ranging from experimental and avant-garde films to recent overlooked gems and obscure, forgotten classics.
On Thursday the 17th, Pablo Larraín's Tony Manero (2008) will be screened: a dark and grim comedy in which we follow short-tempered Raúl, who finds escapism in dictatorial Chile in the film Saturday Night Fever, and especially in imitating Tony Manero, John Travolta's character from the film. Together with Post Mortem (2010) and NO (2012), the film can be seen as the first film of Larrain's (unintentional) Pinochet-Trilogy, in which he explores what happened in Chile and to the lives of people living in Chile under Pinochet's regime (1973-1990).
26/09: VRIJPLAATS FESTIVAL


Na het succes van het vrijplaats festival in maart, belooft ook deze editie, met een internationale line-up van (solo) muzikanten en artiesten, weer een geweldige kakafonie van geluiden, beelden en indrukken op te leveren. En met een DJ die je tot dansen dwingt!
Proef vast voor…
Zea (a'dam, electropunkpopavantgarde)
Bruno Ferro Xavier da Silva (r'dam, live music, black/white silent movies)
Ivan Čkonjević (serbia, soundscapes/ambient/postrock&visuals)
Hélène Courrier (fr/nl, french poetry&sounds)
DJ Petrol Molotov (it/nl, international beats to the max)

Lees hier meer over het festival…